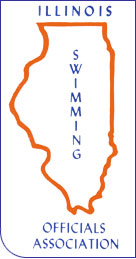 President
Vice-President
Secretary
Treasurer
Member-at-Large
ISOA News
IMPORTANT NOTICE TO ALL OFFICIALS !!!
Illinois State Law requires that all officials complete a concussion course every two years. This requirement went into effect on September 1, 2016 -- two years ago.
As a result - MANY officials now need to renew this training. Please go online to your IHSA Official's Center to see if you must renew. If you do, you will see instructions on how to do so.
Two VERY important items:
1. You WILL NOT be listed anywhere with the IHSA as an official until you update your training, no matter how "in order" your other requirements are. It's as if you don't even exist.

2. Schools MAY NOT contract with officials whose concussion training is out-of-date. This means you may not work ANY meets until you're updated.
As of August 3rd., there are about 120 Swimming & Diving officials who need to update this training!!
Please take the time to ensure your training is up-to-date, and also take the time to renew if you need to..... it will make life MUCH easier down the road!
ISOA Renewal Forms Coming To Your E-Mail Soon! (added 8-3-18)
Your 2018-19 membership renewal form will be coming to you via e-mail this year. Please look for it and send in your dues to renew upon receipt. Dues are due by September 1st.
The membership directory will be updated on September 15. If you have not renewed by that time, you will not be listed until the next update.
Beginning Of Season Important Dates
(updated 8-1-18)
Greetings! As we prepare for another season, officials are reminded of the following important dates:
Online Rules Meeting Available - August 7 through September 11

Part I Exam Available - August 7 through September 11

Part II Exam Available (for those seeking promotion) - September 4 through September 11

Deadline to update State Series availability - September 7
Upcoming August Clinics
(updated 8-1-18)
There are four Level 2 clinics coming up in August. If you are a new official, if you are applying for promotion or if you're in need of a clinic, please plan to attend one of the clinics offered.
PLEASE follow the instructions and e-mail the clinician a minimum of 72 hours ahead of the clinic to register. You MUST register in advance... walk-ins cannot be guaranteed a spot in the clinic.
CLICK HERE for a list of available clinics.
Promotion Requirements
(updated 8-1-18)
All officials who are eligible are encouraged to apply for promotion. You may apply for promotion after two years at your current level.
As a reminder, there are 3 promotional levels with the IHSA:
(x) - Registered - All new officials are placed in this category.

(R) - Recognized - Available after two years at the "X" level.

(C) - Certified - Available after two years at the "R" level.
The steps you must complete for promotion are as follows:
1. Apply for promotion. You do this online in your IHSA Official's Center (the same place you go to take exams, watch rules videos, etc.) The deadline to apply this year is August 31.
2. Complete the Part I rules exam on or before September 11.
3. Complete the Part II rules exam between September 4-11.
a. For X to R promotions, you must score at least 84% on both exams.

b. For R to C promotions, you must score at least 88% on both exams.
4. Obtain three recommendations. One must be from a coach or school, one must be from a currently-Certified official and the third must be either another coach/school or another Certified official. These recommendations must be sumbitted online -- coaches/schools will do so through their School's Center and officials will do so through their Official's Center. You will need to give the coach/school/official your IHSA ID number for them to recommend you.
5. You must not currently be on probation.
6. You must have attended a Level 2 clinic within the past year.